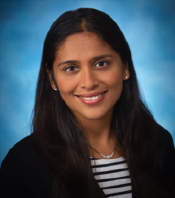 Interests:
HIV-AIDS Management
Prenatal Care
Women's Health
Helping Rural and Underserved Communities
Dr. Ullal's focus is on providing full-scope family medicine to underserved patients.  She received her Doctor of Medicine degree in 2013 from the University of California Davis School of Medicine.  She also has a Bachelor of Arts Degree in Molecular and Cell Biology from the University of California, Berkeley.
Dr.  Ullal was a Resident at the Santa Rosa Family Medicine Residency from 2013 to 2016, where her duties included pediatrics and high risk obstetrics.  She is also credentialed in HIV care, having managed and provided care to a panel of over twenty HIV positive patients. In 2010, she helped create mobile medical clinics in underserved areas in Kenya and worked in rural sites in California.  Dr. Ullal's personal interests include Zumba, travel and the therapeutic value of pets.