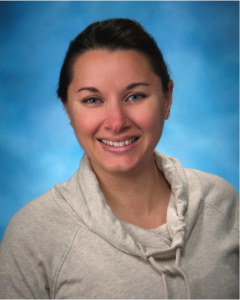 Joelle Whalen grew up in Petaluma and earned her Bachelor's Degree in Health Sciences at Saint Mary's College in Moraga California. While playing soccer at St. Mary's Joelle had multiple sports related injuries and found herself drawn to a career in medicine. She pursued a career as a physician's assistant and attended the University of Southern California's Physician Assistant Program training at clinics and hospitals throughout the Los Angeles area.
Although the first few years of her career were spend in orthopedics she was passionate about primary care and when the opportunity presented itself to return to Sonoma County she jumped at the chance to rejoin our small town community. Her goal in medicine is to cultivate strong patient – provider relationships and to help coach patients towards reaching their health goals. She works to instill positivity into the lives of peers and patients.
In her spare time Joelle enjoys cooking, listening to music, playing soccer and hiking with her husband and dog Beans.
Joelle Whalen creció en Petaluma y obtuvo su Licenciatura en Ciencias de la Salud en el Colegio de Saint Mary's en Moraga California. Mientras que juega a fútbol en St. Mary's Joelle tuvo múltiples lesiones deportivas y se sintió atraída a una carrera en la rama de medicina. Ella continuo una carrera como médico asociado y asistió al programa de Médicos Asociados de la Universidad de Southern California capacitándose en las clínicas y hospitales en todo el área de Los Ángeles.
Aunque los primeros años de su carrera los paso en la pratica de ortopedia, ella sentia un gran entusiasmo por la atención primaria y cuando se presentó la oportunidad de volver al Condado de Sonoma no dejó pasar la oportunidad de unirse a nuestra comunidad de esta pequeña ciudad. Su meta en medicina, es cultivar una fuerte relacion de paciente y proveedor, y el ayudar a los pacientes de obtener sus metas de salud. Ella trabaja para infundir positividad en las vidas de sus compañeros y pacientes.
En su tiempo libre a Joelle le gusta cocinar, escuchar música, jugar fútbol y practicar el senderismo con su marido y su perro "Beans".