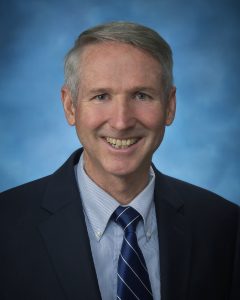 Professional Interests:
Primary Care Optometry
Industrial Optometry
Low Vision
Perception
Dr. Clark has been an Optometrist at Petaluma Health Center since 2016.  He attended the United States Military Academy studying basic sciences at West Point, graduating in 1984 and serving for seven years as an Infantry Officer. He then attended the University of California at Berkeley School of Optometry and in 1991 entered the Air Force as an Aeromedical Optometrist. After six years of Clinical Optometry he elected to return to school and earned PhD in Physiological Optics at the University of Alabama Birmingham. He then served for eight years as a Research Optometrist in San Antonio, Texas. In 2012 he became the clinic chief of the Air Forces' largest hospital at Travis Air Force Base, California serving there until 2016. In his free time he is simply glad to be 'home' and spends much of his time with his two daughters (Shannon and Caitlyn) experiencing the magic of Northern California.