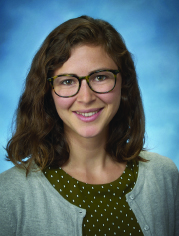 Interests:
Adolescent health
Reproductive health and family planning
Behavioral health and addiction medicine
Preventative health and education
Megan believes in a holistic approach to health and enjoys partnering with her patients to help them achieve physical, mental, and emotional wellbeing. She is passionate about access to health care for all.
Megan has a background in political science and an interest in public policy. After a year of AmeriCorps teaching in a middle school in Los Angeles, she returned to Seattle where she worked as a health educator for a community health organization. There she coordinated an art therapy program for youth in recovery from substance use and became passionate about the use of creativity and community in healing.
Megan received a master's degree in nursing from Seattle University and went on to work as a family nurse practitioner for a community health center in the Seattle area. In 2017 Megan moved to California and joined Petaluma Health Center because of its mission of providing high quality medical care for all people in the community.
In her free time, Megan enjoys exploring the outdoors, working in the garden, cooking, drawing and painting.