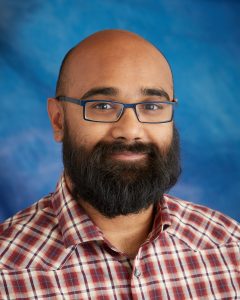 Professional Interests: 
Preventive Medicine and Public Health
Integrated and collaborative care between primary care and mental health
Integrative (complementary, alternative, holistic) Medicine
Substance Use disorders
Care for homeless populations
Dr. Ahmed received his Masters in Public Health from Tufts University School of Medicine and his Doctor of Medicine from the University of Massachusetts Medical School.  He completed his medical training at the Combined Residency in Family Medicine and Psychiatry at the University of California San Diego Medical Center. He subsequently completed a fellowship in Integrative Medicine for the Underserved at the Sutter Santa Rosa Family Medicine Residency.
Dr. Ahmed believes in patient-centered, whole-being care to address the mind, body and spirit. He tries to meet patients where they are on their journey to health and well-being. He believes in a patient's expertise in their own health and well-being, and works with patients to meet their goals. He is interested in combining conventional primary care with psychiatric care, in addition to holistic approaches to health, including lifestyle changes, sleep improvement, and stress management. He hopes to help patients identify their strengths and assets, their support systems and where they find purpose and meaning.
Dr. Ahmed grew up in a suburb of Boston, Massachusetts. Prior to his medical career, he worked in public health and volunteered abroad in India and South Africa. He currently lives in Santa Rosa with his two cats. In his spare time, he enjoys time with friends and family, yoga, wellness retreats, learning how to cook, exploring spirituality, international travel and hiking.