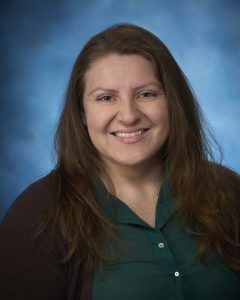 Interests:
Trauma and Adjustment Disorders
Domestic Violence
Depression and Anxiety Disorders
Children and Adolescents
Claudia is a Licensed Clinical Social Worker at Petaluma Health Center.  She received her Master of Social Work degree from San Jose State University in 2010 and holds a Pupil Personnel Service Credential.  She provided counseling at an inner city school in Oakland and at a local elementary school in Petaluma.  Before coming to Petaluma Health Center, Claudia worked as a mental health provider at Petaluma People Services Center where she provided therapy to families and individuals of all ages and conducted parenting, group-therapy classes, and developmental screenings for children 0-5 years old.  Claudia also worked as part of the Odyssey's homeless prevention team at Marin General Hospital and as an advocate at the YWCA in Santa Rosa where she provided support to women and children fleeing domestic violence.
Claudia likes to play and run after her daughter, listen to music, sing, dance, have a full house, do outdoor activities, and especially do it all with family and friends.