Free Help with Community Resources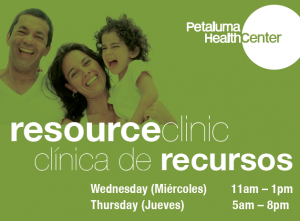 The Petaluma Health Center has a free drop-in Community Resource Clinic to help its patients, and anyone in the community, learn how to find resources they need. Resource Clinic is held every
Wednesday from 11 a.m.- 1 p.m at Petaluma Health Center, 1179 N. McDowell Blvd.
The Resource Clinic was created because health providers often have limited time during appointments to discuss important topics related to patient well-being, but not specifically medical issues, such as how to apply for health insurance or where to locate quality child care.
They recognize there is strong demand for this information, and having access to services can improve overall health and reduce stress. Health Center bilingual staff members are available at this weekly clinic and can offer support and advice on a variety of services available in Sonoma County.
Patients and others in the community can also get assistance with questions related to housing, transportation, and employment opportunities, and learn about ongoing support groups offered in the area. Petaluma Health Center staff can provide answers to specific questions about government programs, such as food stamps and Medi-Cal, and explain the application process.
For further information, call PHC at 559-7500.