Your Health Care Team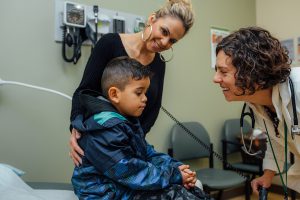 Welcome to Petaluma Health Center's "Patient Centered Medical Home"
The Joint Commission Accreditation: Petaluma Health Center Inc. is accredited by The Joint Commission, an independent, nonprofit organization that sets the standard for excellence in the provision of safe and effective care. An independent, not-for-profit organization, The Joint Commission accredits and certifies nearly 21,000 health care organizations and programs in the United States.
The Joint Commission Accreditation and Certification is recognized nationwide as a symbol of quality that reflects an organization's commitment to meeting certain performance standards. The exemplary care provided by our medical, dental and behavioral health teams as well as our rigorous attention to safety and accountability earned Petaluma Health Center Inc. a three-year reaccreditation in 2015, and it is ready to undergo its first triennial survey.
The Joint Commission Survey is a voluntary process. We take pride in the Joint Commission Gold Seal, and we firmly believe that undergoing the reaccreditation process and adhering to PCMH standards attest to our genuine commitment to assuring high quality of care and patient safety.
Patient-Centered Medical Home Designation: In an effort to enhance the quality and safety of care for our patients, Petaluma Health Center has become a Patient-Centered Medical Home, a designation bestowed by The Joint Commission and the National Committee of Quality Assurance (NCQA) to healthcare organizations that empower their patients to take control of their healthcare decisions, in partnership with their healthcare team.
How does a patient-centered medical home team-based model work, and what mission does it serve? The patient-centered medical home model puts you at the center of your care. You partner with your primary healthcare team to create a personalized care plan for reaching your health goals and addressing your health concerns, help you understand and monitor your prescriptions, offer coaching and advice, and connect you to onsite and community support services to help you follow your care plan.
The mission of your patient-centered medical home is to improve your health outcomes by achieving the following goals:
Comprehensive Care
Patient-centered care
Coordinated care
Accessible services
Quality and safety
Who is part of the patient-centered medical home team? Your healthcare team is comprised of a primary care provider that you select, a medical assistant, registered nurse, referral coordinator, and other support team members, such as case managers and patient navigators.
What is my role in the patient-centered medical home team? Your role is at the center of your medical home team, as an active participant and informed decision-maker in your care. We actively involve our patients in their care by providing them with education and information to help them establish self-management goals and make informed decisions about their own health. In order to better serve you through the patient-centered medical home, we ask you to actively engage in your care by providing us with accurate and complete information about your present complaints, past illnesses, hospitalizations, medications, and other matters related to your health.
Do I get to choose my primary care provider? Yes! You can learn about our Doctors and Providers and select the right fit for you here. On our web page "Our Doctors and Providers" you can learn about each doctor and provider's gender, certifications, specialties, languages, and interests and hobbies. We also provide information regarding the credentials and educational background of individuals. If you don't choose a personal physician, we may help by selecting one for you. If you would like to make a switch, you may switch your doctor or provider at any time for any reason.
How does a patient-centered medical home team work and what kinds of services can I expect? Your patient-centered medical home team works collaboratively to ensure the continuity of your care across multiple settings and to improve your health outcomes.  Your team is responsible for overseeing the ordering and reviewing of lab tests, imaging, prescription renewals, specialty referrals, and after-care, such as hospital discharge, nursing home care and home care. We offer the following scope of services:
Family Medicine
Women's Health/OB
Behavioral Health
Dental
Optometry
Chiropractic
Wellness groups and services (such as Smoking Cessation, Anxiety and Depression, and Diabetes Management)
What if I need a specialist? You have the right to seek specialty care. Petaluma Health Center offers some onsite specialty consultations. Whenever a service or specialty that is critical to your treatment plan is not available at our facility, we provide referrals or transfers to other healthcare professionals or settings that can better address your needs.
How do I communicate with my patient-centered medical home team? You may communicate with your primary care medical home team at any time regarding any healthcare concerns or questions through your patient portal or by calling the team's medical assistant at 707-559-7500.