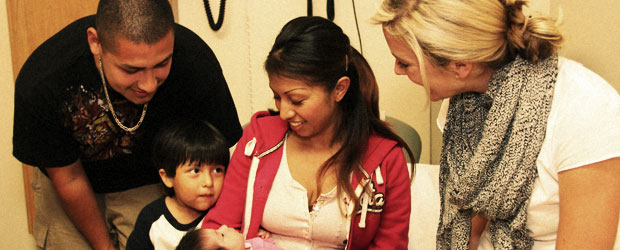 Top Level Patient Centered Medical Home designation
Petaluma Health Center's commitment to patient-centered care has now been recognized at the highest level by the National Committee for Quality Assurance. We are a top level Patient Centered Medical Home where partnerships are fostered between patients and their doctors and care teams to effectively and comprehensively meet patient needs, preferences and priorities.
We successfully met or exceeded six key standards involving access and continuity of care; effective implementation, planning and management of evidence-based practices; availability and promotion of health education resources;  tracking and coordinating care; and using relevant date for continuous quality improvement efforts.
Our staff members share the goal of offering patients the best possible care, and we are using a new, innovative "home team" care approach. At the start of each day, doctors, nurses, nutritionists and medical assistants gather for a "huddle" to share concerns and information about patients who will be coming in for appointments. By having a team of providers who know each patient, we can offer the finest services and health education as quickly as possible.
Our care team model is attracting attention from other health professionals, and we've proudly shared our approach with other health centers locally and statewide conferences. We are happy to talk about what we do here, and believe our integrative medicine program and home team model will lead to a healthier — and happier — community.