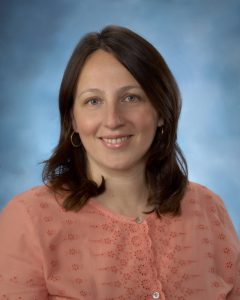 Interests:
Increasing and maintaining access to care for the uninsured and underinsured residents of Southern Sonoma County
Working continuously to improve the oral health of our patients and our community
Using innovative technology and evidenced-based practices to optimize the oral health of our patients
Following the impact of oral health on general health to integrate dental care with medical and behavioral health care
Running an efficient and effective operation to increase patient satisfaction, to engage patients and staff and to reduce the cost of healthcare for the entire community
Training and motivating staff to provide high quality care with maximum attention to patient comfort
Dr. Ramona English is passionate about providing quality dental care to those who need it the most. After working with underserved communities in America, Eastern Europe, and in refugee camps in Croatia, she decided to make this her life's mission. Originally from Romania, Dr. English obtained both a nursing degree and a dental degree in her home country. Later, she obtained her DMD degree from the University of Pittsburgh School of Dental Medicine. While at the University of Pittsburgh, Dr. English completed the Schweitzer fellowship program by improving the oral health of senior citizens in the greater Pittsburgh area.
After a successful experience in private practice, Dr. English joined Petaluma Health Center in April 2005 to further the mission of the center by starting the dental program. Over the past eleven years, Dr. English has been providing care to thousands of patients and has also played an integral role in the development and expansion of the dental program to Rohnert Park, Petaluma schools and the Valley of the Moon Children's Home. Dr. English is involved with local, state and national dental director organizations and speaks on various topics including the integration of dental, medical, and behavioral health. She is presently Chair of the California Dental Director Peer Network. Under Dr. English's leadership, Petaluma Health Center has been recently participating in a national quality improvement collaborative as well as a state collaborative on perinatal and infant oral health.
Dr. English practices general dentistry and welcomes patients of all ages. She believes that the provision of quality dental care has positive effects on patients' overall health and quality of life. Aside from spending time with her family, in her free time Dr. English enjoys gardening, knitting, hiking, birdwatching, and developing a sustainable lifestyle.