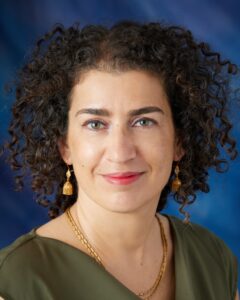 Professional Interests 
Pain Management
Stress, Anxiety & Mental Health Concerns
Digestive Issues
Family Medicine & Women's Health
Herbal Medicine
Dr. Ayat is a Doctor of Acupuncture and Traditional Chinese Medicine and a California state licensed acupuncturist.
She received her Master of Science in Acupuncture and Oriental Medicine (MSOM) from The Acupuncture and Integrative Medicine College in Berkeley, CA and her Doctorate in Acupuncture and Chinese Medicine (DACM) from Pacific College of Health and Science in San Diego, CA.  She attended Dartmouth College for her undergraduate education where she completed her BA in Studio Art.  Her medical experience includes working with student-athletes at the Simpson Center for Student-Athlete High Performance at UC Berkeley, The Petaluma Community Acupuncture Clinic and volunteer work with Acupuncturists Without Borders at The Botanical Bus in Sonoma County.
Dr. Ayat believes that integrative medical care delivers the most optimal results for patients and that all communities deserve access to this type of comprehensive and patient-centered care. She enjoys meeting her patients where they are and guiding them on their personal journey to vibrant health.  Dr. Ayat has personal history working with traditional medicine from her native home in the Middle East and brings her healing lineage to her practice.  She and her family have called Sonoma County home since 2006.  Dr. Ayat is also a metalsmith and in her free time she enjoys being in her metal studio, by the ocean or in the garden with her cats.  She is fluent in English and Farsi.