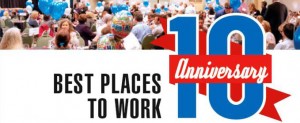 From the North Bay Business Journal:
PETALUMA HEALTH CENTER – SIX-TIME WINNER
PETALUMA – Established in 2000, PHC has 204 employees, including Certified Enrollment Counselors, who have assisted over 15,000 families to enroll in subsidized health insurance.
"Our staff is committed to delivering the highest quality, patient-centered health care possible to the more than 27,000 people we serve," said CEO Kathy Powell. "Our dedicated and mission-driven staff has helped to distinguish us as a model for exceptional health care across the nation."
In addition to serving patients, the Center's dental staff provides oral screenings and treatment to students at local elementary schools.
"My coworkers and I care about the people we serve. We are committed to providing excellent medical care to everyone in our community."
PHC has an employee wellness committee, organized walking groups and on-site fitness classes. There are monthly employee drawings, carpool benefits, recognition awards presentations 12 times a year, CPR and First Aid classes, emergency preparedness training and discounts for local health clubs.
"I am honored to work here at this best-in-class health center. I believe it is tops in our region, if not in the country."
The culture at the Center can be described as optimistic, compassionate, innovative and mission-driven.
PHC opened its newest clinic in Rohnert Park.