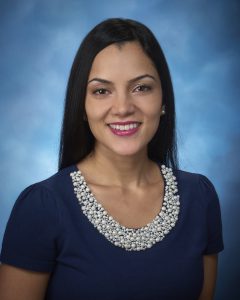 Interests:
The health of children, adolescents and young adults
Pregnancy and childbirth health care
Teaching
Family Medicine
Dr. Amrita Sandhu chose Family Medicine because she enjoys caring for all members of the family.  She has particular interests in pediatric, teen and OB patients.
Dr. Sandhu received her medical degree in Osteopathic Medicine from Touro University College of Osteopathic Medicine.  She also has a Master of Arts in Medical Sciences from Boston University School of Medicine and a B.S. in Psychobiology from the University of California at Los Angeles.  Her Los Angeles medical experience includes working at a Family Medicine clinic in downtown Los Angeles, hospitals, and nursing facilities.
Dr. Sandhu has also worked as a Faculty Preceptor with students from California and Arizona.  Her hobbies include traveling, baking and spending time with family and friends.  She recently had her first child and is enjoying spending all her free time with him.
Dr. Sandhu loves working at the Petaluma Health Clinic and providing care here.