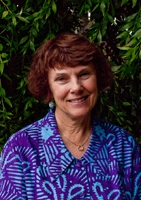 After receiving a BS in Health Education, Diane served for two years in the Peace Corps in the country of Ivory Coast in West Africa. Realizing that she would miss clinical care if she only practiced health education, she completed the Physician Assistant Primary Health Program at Stanford University. She completed her internship at Pt. Reyes Clinic and has been a fill-in provider for the last twelve years.
Diane enjoys the collaborative atmosphere among providers, and feels that taking the time to listen to patients, getting their input to help address their current health problems, and giving them ideas on preventive health measures greatly contributes to patient satisfaction.  She grew up in the small town of Ferndale, CA and appreciates the benefits of community support that exists in West Marin.
Diane enjoys reading, hiking, river rafting and traveling to visit different cultures. She has lived in Larkspur, CA for many years, and has one son and a much-loved grandson.