When you make a donation to the Petaluma Health Center, you help us ensure our future providing high quality health care with access for all in Southern Sonoma County. There are many ways to get involved.  Whether you make a gift right now or through other means of giving, your gift will have a lasting impact on the community we serve!
To make a donation check, please make your check payable to Petaluma Health Center and include your name, address, phone number and email address. Send your check to:
Petaluma Health Center
1179 North McDowell Blvd.
Petaluma, CA. 94954
Attn: Kelly Bass Seibel
To donate by phone, please call Kelly Bass Seibel: 707.559.7614
Contact our Development Department via email: kseibel@phealthcenter.org
For a look at how your donations may be used, please read about our patient Karen: 
Petaluma Health Center knows that health insurance is important in ensuring timely access to primary and preventive health care services, but for expecting mothers, health coverage is critical in ensuring timely access to prenatal care and a healthy, full-term pregnancy. One of our patients, Karen, knows firsthand that the health insurance enrollment process can be complicated, overwhelming, and difficult to navigate, but she also knows that she can rely on Petaluma Health Center for assistance in accessing health insurance and other local resources.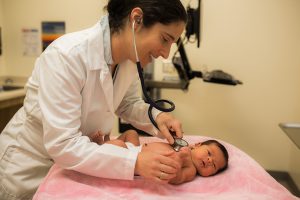 Our energetic team of qualified and knowledgeable Certified Enrollment Counselors (CECs) and AmeriCorps Service Members diligently work to facilitate access to quality health care, insurance and local resources for all members of the community, especially the uninsured and underinsured. Our CEC and AmeriCorps Service Member, Liseth, met with Karen, provided her with an overview of Karen's subsidy eligibility and assisted her throughout the enrollment process.
Once Karen's baby was born, our CECs assisted her in ensuring that her baby girl had health insurance coverage and received all her well-child visits and immunizations in a timely manner. Karen and her beautiful daughter now both have the coverage they need and the peace of mind to enjoy this very special time in their lives. Karen is confident that her daughter will grow up healthy and happy with the support of Petaluma Health Center behind her. In addition to Karen and her baby, Petaluma Health Center's Certified Enrollment Counselors have successfully helped over 15,000 families enroll or re-enroll in health coverage since October 2013.
Your generous donations support our community outreach and enrollment efforts and help ensure that our community, and, in particular, our medically-vulnerable populations, such as children and pregnant women, obtain health coverage and access quality primary and preventive health care services. Your commitment to the well-being of our community has been invaluable, and greatly appreciated.

Other Ways to Give:
Recurring Giving
Establish a recurring monthly gift to make a sustained difference for our patients. You choose the amount you wish to give each month, and you can change, or cancel, your pledge at any time. Sign up now and make your first donation by credit card online.
Employer Gift Match
Many companies offer matching gift programs to encourage employees to contribute to charitable organizations.  Most of these programs match contributions dollar for dollar, and some will even double or triple the amount of your gift.  The Petaluma Health Center can provide your employee proof of donation.  Talk to you employer to see if they have a program or would be interested in starting one.
Wills, Trusts, Gift Annuities, Insurance, IRA's
A professional financial advisor or attorney can assist you in preparing for a gift such as a bequest, a trust agreement, life insurance and more.  You can also put the Petaluma Health Center in your will.  Please notify us so we can thank you.
If you have any questions or would like to discuss giving options further, please call:
Kelly Bass Seibel, Director of Business Development and Partnerships at 707.559.7614, kseibel@phealthcenter.org