Family Wellness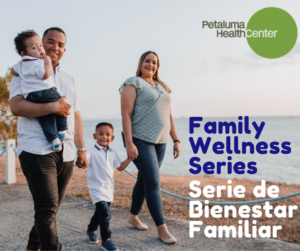 We are excited to announce that Petaluma Health Center's Family Wellness Series is officially going virtual! We hope you and your family will enjoy these interactive online workshops over the next few months.

The Family Wellness Series hosts monthly activities for families with children ages 0-5 years, emphasizing healthy lifestyles and positive parenting strategies. Each month, we'll have a different community organization joining us to lead an activity for you and your family to enjoy. Activities are designed to be a fun way to promote awareness of the many impacts that adverse childhood experiences (ACEs) have across the lifespan, and to teach strategies for building resilience from a young age. We're here to support everything you already do to raise happy, healthy, and resilient children!

We will also provide resources for parents on our website to go along with the activities. These resources help to explain some of the science behind ACEs, toxic stress, resilience, and healthy brain development.

If you or a family member would like to talk with our Behavioral Health team, please call 707-559-7500 or visit our Wellness page for additional resources.

Check out our Facebook page for upcoming events and follow us to stay informed.

¡Nos complace anunciar que la Serie de Bienestar Familiar del Centro de Salud de Petaluma se está volviendo oficialmente virtual! Esperamos que usted y su familia disfruten de estos talleres interactivos en línea durante los próximos meses.

La Serie de Bienestar Familiar ofrece actividades mensuales para familias con niños de 0 a 5 años, enfatizando estilos de vida saludables y estrategias positivas de crianza. Cada mes, tendremos una organización comunitaria diferente que se unirá a nosotros para dirigir una actividad para que usted y su familia disfruten. Las actividades están diseñadas para ser una forma divertida de promover la conciencia de los numerosos impactos que las experiencias infantiles adversas (ACE) tienen a lo largo de la vida y enseñar estrategias para desarrollar la resiliencia desde una edad temprana. ¡Estamos aquí para apoyar todo lo que ya hace para criar niños felices, saludables y resistentes!

También proporcionaremos recursos para padres en nuestro sitio web para que acompañen las actividades. Estos recursos ayudan a explicar parte de la ciencia detrás de los ACE, el estrés tóxico, la resistencia y el desarrollo saludable del cerebro.

Si usted o un miembro de su familia desea hablar con nuestro equipo de salud mental, llame al 707-559-7500 o visite nuestra página de Wellness para obtener recursos adicionales.

Visite nuestra página de Facebook para más detalles sobre estos eventos y síganos y haga "like" para mantenerse informados.